The response to the Mint Hill Stitch In Operation Helmetliner has been overwhelming. The patterns for both crochet and knit helmetliners were made available online and at our Branch. As many as 100 patterns were taken from the display by our borrowers but the majority of the donated helmetliners were made by members of the Mint Hill Stitch In group.
Some of the ladies knitted as many as eight helmetliners showing their heartfelt support to our service men and women. The deadline for this service project is Tuesday February 26. As of Friday February 8 eight scarves and 19 helmetliners have been completed. We thank all who
participated in this endeavour to benefit the men and women who are defending our country.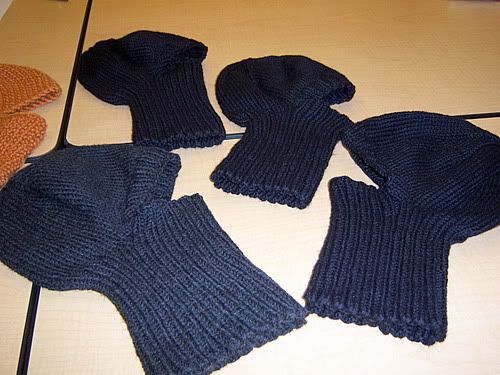 This is
Julie
working on a helmet liner. The
display
at the entrance of the Mint Hill Library drew the interest of borrowers and visitors.
The Mint Hill Stitch In group will join the Public Library in Charlotte Mecklenburg promoting the
Paint Your Town Read
(pronounce the word read as the color red) by knitting or crocheting red scarves to be donated to children and teens in our area. For more information about the Paint Your Town Read visit:
www.plcmc.org/paintthetownread
. This program promotes reading just for the fun of it and encourages families to participate to discover how reading together can enrich their lives.
Click on the following links for scarf patterns:
Easy Broken Rib scarf
Garter Stitch Zig Zag scarf
Cable Scarf
Easy Scarf for Beginners